In this quick guide, we're revealing exactly how to choose office seating for your breakout rooms. Breakout rooms are spaces tucked away from the main open-plan space of your office. But that doesn't make them any less important. They could be areas where important conversations happen between your business and key stakeholders or clients. It could be where your team unwinds and let their creative ideas flow, leading to a breakthrough on a project. Whatever the purpose behind your breakout rooms and spaces, having the right office seating is important.
Which style of chair?
Out on the office floor, ergonomic task chairs tend to be the norm. However, in meeting or 'breakout' rooms, you have more options. Cantilever-style or traditional four-legged chairs tend to be reliable options for a breakout room.
If the space is a designated area for in-house meetings and your company culture is a bit more casual and fun, you may even want to choose some bright colour combinations, comfortable bean bags or leather cube stools.
However, if your business is strictly formal, if you're a law firm or mortgage broker for instance, then you may want to adopt more traditional office seating for your meeting rooms.
How long your meetings are will also be a consideration. A backless stool is ideal for a short, energetic catch-up or brainstorming session, but not so ideal for a 4-hour long meeting with a department head, manager or client.
Consider the available space
When it comes to space, not all breakout rooms are created equal. Some will be large conference rooms, whereas others may be a little more snug. Depending on what type of meeting table or desk you want to place in the room will be a key deciding factor on what seating to purchase.
You may only have room for a smaller round table. In which case, cantilever or four-legged chairs are the best option as they take up less room and are better suited to round tables. If there aren't enough seats to include everyone in your in-house meetings, consider buying some beanbags or cube stools which can be easily moved around and take up very little space.
However, if you have the luxury of having a larger boardroom with a large table to suit, you can opt for chairs that are a little larger, perhaps with armrests for a more comfortable seating arrangement.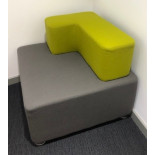 Where to buy your breakout office seating?
Now you're a little more clued-up on what type of seating to buy for your breakout rooms, the next step is to choose where to buy it from. You may have a trusted brand that you already shop with. But, if you're open to suggestions, we say buying used can be a great way to save money on premium branded seating that still looks the part. If you choose the right stockist, you not only stand to benefit from buying seating that's great value for money, you may also have more choices. At LOF, we've built quite the selection of breakout seating to cater for businesses of all shapes and sizes.
Browse our collection today or speak to a member of our team to find out more about or range of used office chairs.