If you've been thinking about revamping your office space now is the perfect time with our high quality desk designs at attractive prices! Enjoy up to 50% off used office desks in our stock clearance sale – offers end February 28th 2021.
This fantastic oak desk comes with a flippable table top and wheels, which is super convenient for rearranging your office space or when you need to make room for those team exercises. Kitted with power and data supplies for two people, this Kinnarps desk currently comes with an attractive discount.
This minimal oak desk pod can sit up to eight people and is perfect for a modern, open-plan workspace.

This uniquely shaped pod Nebraska oak desk can comfortably seat up to six people and you can save almost £100 in our stock clearance sale. The perfect centre-piece for your office, this used desk was crafted by Senator – one of the largest manufacturers of office furniture in the UK respected for their high quality design standards.
This maple folding frame table is perfect for smaller spaces and a genius solution if you're working from home without an office. Once you've finished working for the day you can simply fold the desk and put it to one side or store in a cupboard. For less than £50 it's super affordable too.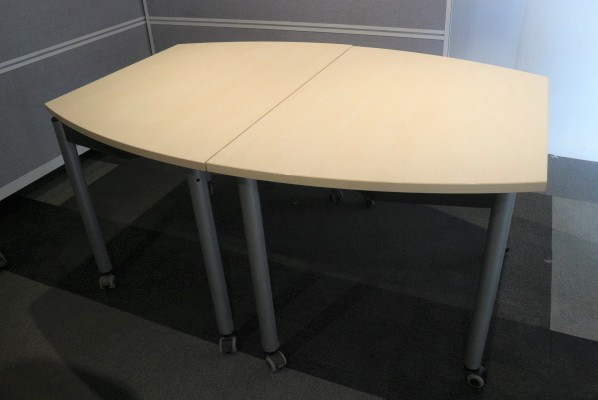 This maple flip top table comes with convenient wheels so you can transport it quickly and efficiently from one part of the office to another. Suitable for boardrooms and meetings, this table is currently available with 50% off.
So there you have our round-up of the top 5 used office desks in our stock clearance sale.
At LOF Furniture we specialise in reselling new, refurbished and used office furniture from leading brands and help businesses and remote workers get the best equipment for the job with a focus on comfort, functionality and aesthetics. Shop our used and new office supplies today with delivery and installation options available.