Whether you're looking to revamp a work office, or set up a space in your home for remote working, we're sharing our essential office desks buying guide to get you started.
Buying the right desk is not just about how it looks, you'll also want to consider what you want to use it for and the different types and styles to determine which one will best suit the space you have.
LOF is a leading supplier of second hand office desks. We also offer a handy design and installation service so you can get back to the more important things.
Top 5 things to consider when purchasing a desk:
What do you want to use it for?
Whether you're joining the many people who are now working from home, or looking to set up a new workspace for your employees, the desk you'll want to buy will very much depend on its purpose.
We have a range of desk collections, including those that are designed for commercial offices, and those that are perfect for everyday home use.
You may want a desk for more of an occasional, ornamental piece to finish a room, but if you're looking for a desk for work you'll want a design that's both practical and comfortable.
How many people do you need to seat?
If you're working from home, you're probably only after a desk for one. However, if you're purchasing desks for a commercial office, you'll want to consider the best option for your employees, how to best use the space available, and how to get the most for your budget.
We sell a range of singular desks which can be pushed together, or you may want to consider purchasing 'pods' which are specially designed to comfortably seat up to 10 people.
Shape and Size
The amount of space you have will be a huge consideration when choosing which desk you want to buy. You will need to measure up the dimensions of your available space and compare them with the measurements on our website. The last thing you want is to order a desk that doesn't fit.
If you're working from home, you may not have a dedicated office room, but we have a range of desk shapes and sizes to comfortably fit a lounge or bedroom – even if your living space is on the small side.
Brand, Style, and Colour
We have a range of styles and colours available including traditional wood desks and more contemporary, sleek white designs. If you're not sure what style you're looking for, we recommend having a browse and noting down the ones you like best.
If you're a business, you may even want a style or colour to reflect your brand.
Budget
If your budget is tight, our second hand office desks are a great way to economise on your workspace.
At LOF, we also offer a range of office desk lease options at an affordable fixed monthly cost. Leasing is a flexible method which allows you to quickly obtain the equipment you need while offering a more manageable impact on cash budgets.
Top 5 Different types of desk:
As with most types of furniture, there are many different types of desk available for both commercial and home offices.
With a wide selection of designs including corner units, stand-alone, and even combined pods, general computer desks are designed to ensure productivity while creating a stylish office environment.
Executive desks are usually designed for one person and placed in the centre of an office. They offer a large surface space and are a traditional choice for an executive or manager's office.
Also known as 'pods', bench desks are long and wide enough to fit multiple people in a double-sided row. Each side is often separated with screens. These desks are suitable for 2 – 10 people.
Working from home desks are perfectly practical and designed for one person.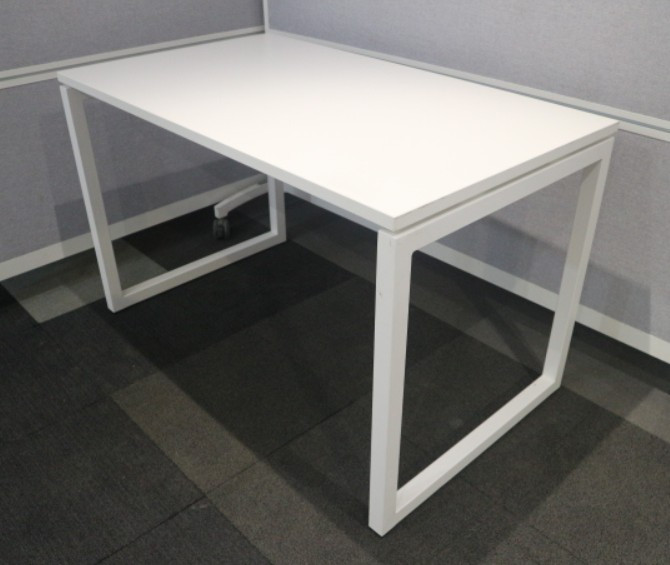 Also known as sit-stand desks, height adjustable workstations are a contemporary choice for an ergonomic work environment.
Adjustable desks allow you to select your ideal working position and height using a mechanism such as a button or slider.
Office Desk Styles:
There are three main styles you'll want to choose from:
Straight Desk – this is a traditional square or rectangle shape.
Wave Desk – this desk has an indented curve along one edge which offers a designated space for your chair.
Corner Desk – corner desks are designed to slot effortlessly into the corner of a room and are a great way to maximise your use of space – they can also make for a stylish furniture feature.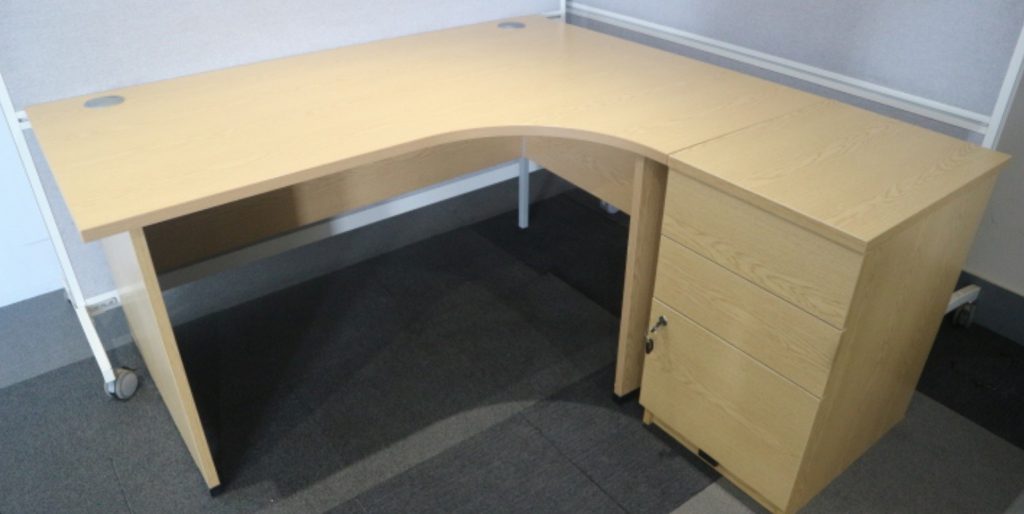 Making the most of your desk:
You may want to purchase some accessories to maximise the space on or around your desk. Cubby holes, filing trays, and pencil pots are a great way to organise your workspace. If you need lots of storage, we recommend purchasing a desk with a ready-fitted pedestal.
Meanwhile pictures, desk lamps, and plants can brighten up your work environment and make it feel a little less clinical.
For health and safety we also sell office sneeze guards, which are a recommended buy for open-plan office spaces. Our screens are transparent so while they offer you and your colleagues protection, they shouldn't hinder communication.
If you're kitting out a business office, you'll also want to make sure you have the right technology and power supply for computers. Some of our designs come ready-fitted with essential power and data packs for your convenience.
Tips for avoiding back and neck ache:
A common problem that remote workers face is back or neck ache. This could be as a result of poor posture. We recommend reading our checklist and essential FAQs on how to sit at a desk properly to avoid physical problems.
As well as ergonomic chairs, which offer back support, we also sell footrests which are a great tool for maintaining the correct posture while sitting at a desk.
General aftercare advice
To keep your desks in good condition and hygienic we recommend cleaning them regularly.
Our used office desks come with a 3 month parts warranty for your peace of mind.
We hope you found our essential buying guide for office desks helpful. If you have any more queries, our friendly and knowledgeable team are happy to help. Contact us today to make an enquiry about our second hand office desks.